restaurant - il ristorante
Passion & best ingredients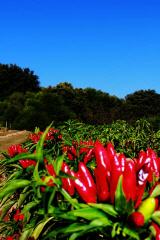 We love cooking ... We love the perfume of fresh herbs and the real flavour of tomatoes and vegetables – growing in our garden under the warm Mediterranean sun. We love it, to visit in the early morning our gardens to choose the ingredients for the dinner menus, to pluck the delicate salad leaves, still covered with dew in the morning sun ...

Our love for the italian cuisine, we present you every evening in our daily changing menues with several courses in our cozy little restaurant.
We offer specialties from the Mediterranean and Sardinian cuisine, vital foods, pure vegetarian or fine meat dishes, created by the offer of the season and our vegetable garden.

We serve only with local products and food and wonderful sardinian wines. Faithful to our settled rule "From the Garden to the Table", we specialized in vegeratian cooking.
Our cuisine

Our menues always including antipasti, Primo Piatto, Secondo and dessert. In the menu are included, all drinks like water, house wine and coffee... and a Mirto della casa !!

You can also choose also from our small wine list with a fine selection of hand-picked wines.
For breakfast you can enjoy our cheese, home-baked bread, daily baked cakes, homemade jam and yoghurt and fresh fruit ... and we are always open for a special wish !.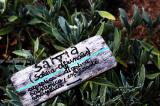 Our restaurant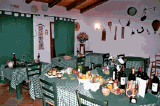 It is small and cozy. We like a quiet atmosphere and plenty of time for our guests to dine. That's why we only accept a limited number of external guests.

For external guests, we offer our four course dinner menue for 30,-- € per person.
Please book min. 24hrs in advance: tel.: 331 95.51.584