Horseback Riding in Sardinia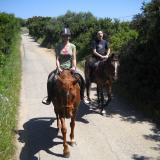 Discover Sardinia on horseback - with our Anglo Arabo Sardo half-breeds.

Our Trainer and your guide is recognized by the Italian Equestrian Federation FISE, he shows you Sardinias undiscovered and wild paths. Our small herd of horses is already trained for endurance races in Sardinia. The horses are trained in English style, they are sensitive and it is required a basis skilled rider's hand.

Depending on the season the horses are available directly at Sole e Terra or in the pastures, about 15 minutes far away.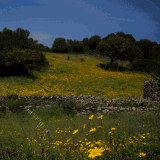 Our rides are a unique and unforgettable experience for horse enthusiasts. The hinterland around Sole e Terra, offers romantic unspoiled natural landscapes, rolling hills and evergreen vegetation, wild olive and cork oak forests. An indescribable scent of wild herbs, is around in the Sardinian air.
Horse and rider become one with the Mediterranean environment - both share the same sights, smells, sounds - the whole atmosphere of the Mediterranean landscape penetrates to you. Thanks to our quiet and sure-footed horses you dont have to be a super expert on horseback, riding experience is fundamental to us but nevertheless necessary.
The Breed: Anglo Arabo Sardo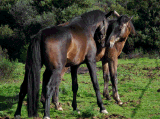 Sardinia is an island of horses, traditionally you can find here the noble breed of the Anglo Arabo Sardo.
Based in the 16th Century on Berber and Arabian horses are the origins of the Anglo-Arabo Sardo.
The breed is presented subtle, with noble minds, and often very dry limbs.
Sardinian horses are tough, persevering, hard working and very sure-footed - loved by many horse enthusiasts in their first ride with a "Sardo" . A light gallop, even downhill over rocks and stones is perfectly possible with this fantastic horses.
Especially in endurance races they are often in use. Even the Arab sheiks, with the best endurance horses in the world like to buy you and interesting horses in Sardinia.
Even at half-breed races in Sardinia or in the mainland of Italy, the horses are often found in many traditional and parades, which are always accompanied by some riders and costume groups.
Spectacular are e.g. during and Ardia of Sant Antinu at Carnival time in the Sartiglia Oristano. There are the traditional ring jousting riders and horses gorgeously decorated. In the following Equestrian Games, the "Parglie" the ground shakes beneath the feet of the spectators, if rider trio's show on their horses at full gallop tricks.

Our Offers: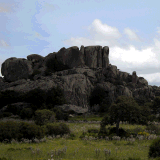 Small groups and individually ... maximum of 4 persons.

Trekking full day rides - with Sardinian lunch picnic
1 - 2 persons 95, - € per person / 2 - 4 persons 75, - € pp

Rides (2-3 hours) - with snack pack
1 - 2 persons 75, - € per person / 2 - 4 persons 55, - € pp

For the rides: Please bring comfortable riding pants or jeans, chaps, riding boots or shoes. Helmets (mandatory) are provided by us.