<!table width="0%" border="1" align="center">
Welcome to Sardinia
pure nature - pure tranquillity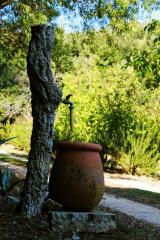 Enjoy Sardinia from its real site - at our Guest House Agriturismo Sole e Terra. A wonderful and varied landscape scenery around, majestic beaches and a lot of space to relax and enjoy a calm holiday.

Sole e Terra is is located in quiet hills in the north west of the Sardinia, named Gallura, about 45 minutes drive from the airport Olbia, Costa Smeralda. The nearest villages are the pretty mountain village Luogosanto and the smaller village of Bassacutena.

The most beautiful beaches of the North West area, between Santa Teresa Gallura and Costa Paradiso, as Lu Litarroni, Rena Majore and Rena Matteu you reach in just a few minutes drive by car or bicycle.

We offer 8 comfortable guest rooms and a variety of genuine specialities of the Italian and Sardinian cuisine - we prepare only fresh products from our kitchen gardens. We are proud to be labeled "Agriturismo" because we work hard to deserve it.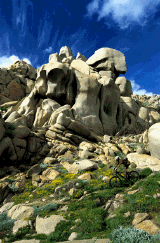 Up from Sole e Terra friends of jogging ,biking and walking have the opportunity to start each morning into a round of fitness.

If you have any further questions, please feel free to contact us by e-mail (info@soleeterra.it).

Your team from Agriturismo Sole e Terra